Issue 16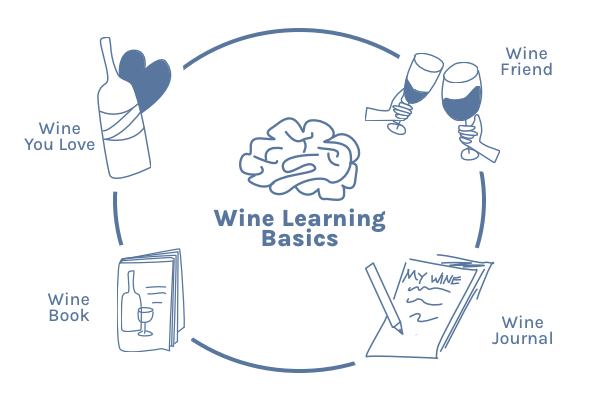 You only need 4 things when it comes to wine learning:
Wine Journal
Wine Friend
Wine You Love
Wine book.
That's it.
It's easy to believe you need to spend a lot of money and time to learn about wine. Books, blogs, podcasts, personas. It's overwhelming.
There's good news: instead of consuming wine content, you should be consuming wine.
There's no better way to learn about wine than drinking it.
But, there's a BIG difference between drinking wine and getting drunk on wine.
Here are the essentials that you need to jumpstart your wine learning.
A Wine Journal
The most important thing you can do to learn more about wine is take notes.
Your memory is garbage, especially when drinking.
Writing wine notes will alleviate the brain fog and allow you to recall wines you enjoyed.
You don't need anything fancy.
When I was starting, I used a legal pad. If you prefer digital, you can use a notes app on your phone.
Remember: pick something you'll use.
A Wine Friend
It's good drinking wine with someone, but it's even better drinking and learning about wine with someone. Partner, cousin, neighbor, it doesn't matter. Wine friends come in all sizes.
A great wine friend has three key characteristics.
They are eager to share wine and wine knowledge
They are friendly and positive
They know roughly the same as you do about wine
These are the people who will lift you up when the wine learning gets hard.
They will keep it fun, interesting, and entertaining.
A Wine You Love
If you haven't met a wine you love yet, keep drinking. There will be a wine that will spark your curiosity and give you all those butterflies.
Falling in love with a wine is a bit like falling in love with a person. You'll want to learn everything about them.
Here's some good questions to ask about your beloved wine:
Who made this wine?
Where did it come from?
What food does it pair with?
Are there any other wines like it?
Don't worry about the last question, wines don't care if you meet other wines.
A Wine Book
One book is all you need. As tempting as all the beautiful wine books seem, you should get one and stick to it.
If you're completely new to wine and you don't own a single wine book, buy the Scratch and Sniff Wine Book.
It was both hugely influential to my wine journey, and there's no better, more concise book about wine basics.
Need help finding the perfect wine book for you? Just send me a note, and I'll point you to the perfect resource.
Free Run Juice
*free-run juice is a wine term for the grape juice that comes from their own weight prior to pressing. These are weekly tidbits that came out from my own wine reading.
A New Wine Documentary
It sounds like the start of a joke: Four Zimbabweans walk into one of the world's biggest wine competitions…
This trailer recently showed up in my feed, and I can't imagine a more inspiring tale for wine learning. As soon as this becomes available in the States, I'll let you know.
Who Moved Their Cheese?
$22k worth of cheese was recently stolen from a Dutch Dairy Farm. This short read is full of fantastic quotes
My personal favorite: "We are a bit afraid of this. They don't shy away from entering a cheese farm with brute force. In no time they fill their bus and leave."
Ready to commit to wine learning?
Increase your wine confidence one weekly newsletter at a time.
New issue comes out every Friday
Unsubscribe at any time.