Happy Weekend,
There's lots of wine names you should know. Jancis Robinson, Karen MacNeil, Steven Spurrier, and plenty more who I've talked about in past issues.
But, Rudy Kurniawan may be unfamiliar to you.
Rudy is the world's greatest known wine criminal.
It's estimated that some 550 million USD worth of wine still exists in the market today. And guess what…he's baaaaccck!
But despite Rudy's devious ways, we can learn 4 key lessons from Rudy as students of wine.
Here's what Rudy, a convicted wine fraudster, can teach you to:
Train your palate
Remember the important facts
Take notes and connections
Test your skills
You have to train your palate
Rudy had talent. He gained trust of people in the wine world by his ability to call wines blind. At some point, he must have sampled and drank an incredible amount of incredible wines.
Further more, he somehow committed all those tastes to memory.
His grift may have been a gift, but you don't obtain knowledge about wines' taste without the real reps.
You have to remember the important facts
Beyond wowing people with his palate, Rudy dazzled strangers with his wine knowledge (until he got caught).
He was able to remember great vintages of Burgundy and proclaim he had tasted them. Sure, the wines he chose were so rare that few could argue his claim.
But, it was this superior knowledge that made him an absolute force as a forger.
You can impress others by remembering a few key wine facts/stories to share with other people.
You have to take notes and make connections
Seized at Rudy's raid were bottles with formulas written on them.
These were likely Rudy's blending combinations. He blended other older wines and create good enough copies. Those bottles earned him credibility as player and connoisseur.
Beyond tasting, he certainly did an incredible amount of homework.
You need to track your own reading and drinking with a wine journal.
You need to test your skills
Rudy took all these skills to the auction houses, and he arrived on the scene ready to impress.
I have to imagine that he started slinging fake bottles with high rollers with uneducated palates at lavish wine dinners.
It's easier to fool people with lots of wine around, and perception of something rare is enough to trick our brain about expectation.
After he duped them, he probably saw the opportunity to challenge the whole wine world.
For your own wine learning, try blind tastings with your friends or consider taking a wine exam to evaluate your skills.
Are you ready to be a wine anti-hero?
Rudy shows what we all might be capable of in wine learning. Also, his journey highlights the insane amount of bullshit of the high-end wine world.
As strange as it may sound, I recommend following Rudy's intense studying if you want to go far in wine.
But, I promise these lessons won't land you in jail*.
Get your reps and taste lots of wine
Have a few wine stories to tell at parties
Keep a wine journal
Challenge your skills with blind tastings or other exams.
​
*I do not endorse wine crime, but I do find it fascinating.
This Week's Free-Run Juice
Free-run juice is a wine term for the grape juice that comes from their own weight prior to pressing. These are weekly tidbits that came out from my own wine exploring.
Watch and Dive Deep Into Sour Grapes
You can watch Sour Grapes, the documentary about Rudy Kurniawan wine fraud, for free on YouTube by clicking the video below.
​
Two More Fun Sour Grapes Finds:
Early in the film, we hear from Corie Brown—the first to profile Rudy for the LA Times back in 2006. It's a great read, and especially eye opening when you know the outcome.
5 years ago, I interviewed Jerry Rothwell and Reuben Atlas, the co-directors of Sour Grapes.
I'm assembling an oral history of their making of the documentary. You can get sneak peek of that behind-the-doc story here.
​
Wine Insights: A Book, Blog and Bottle Every Week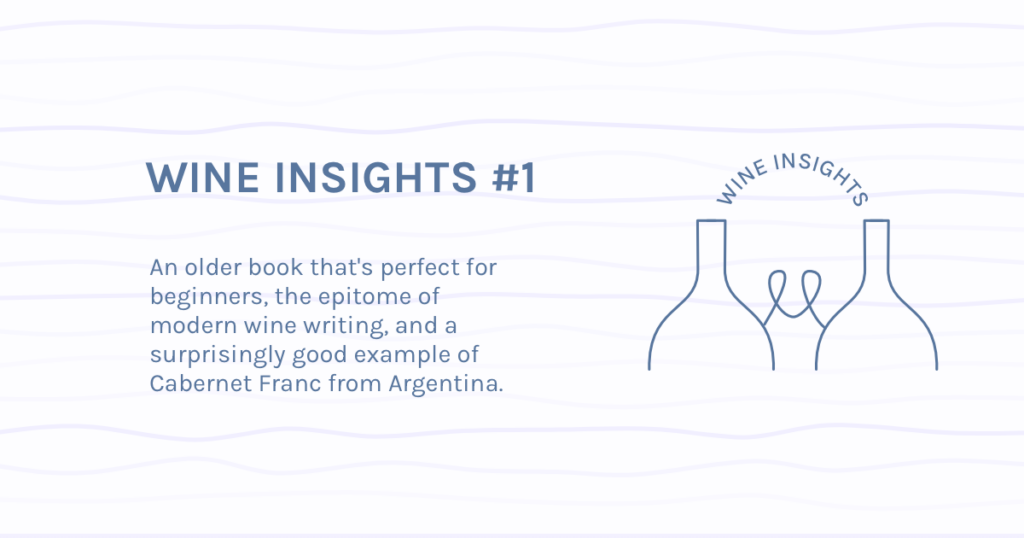 Welp, I did the unthinkable. I started another wine newsletter.
It's a bit different than Wine Blueprint. But fear not, this isn't going way, and it will stay the long-form weekly digest for wine learnings.
But, so many of you have loved this Free Run Juice section that I decided to give it a spin-off with a small project called Wine Insights.
Each week, Wine Insights features a book, blog and bottle to further your wine learning.
You can check out the first issue of Wine Insights here.
Ready to commit to wine learning?
Increase your wine confidence one weekly newsletter at a time.
New issue comes out every Friday
Unsubscribe at any time.