Happy Friday,
Do me a favor and check:
Do you have wine sitting in your kitchen or in the sunlight?
If so, move them or drink them now.
I'm guilty of this too. As I was writing this, I saw two bottles sitting on top of my wine fridge. Even I need a reminder of the basics.
So let's cover the 4 ways you can improve your wine storage situation and become a wine storage pro.
Know The Basics And Follow Them
This is a reminder for myself as much as it is for you. You can protect your wine with two simple steps:
Store wine on its side
Keep it in a cool and dark place
Storing wine on its side keeps the wine in contact with the cork.
This moisture prevents the cork from drying out and allowing the wine to spoil faster. Remember, the wine storage game is a race against the clock.
The cool, dark place is beneficial because hot temperatures age wine faster.
The ideal storage temperature is 55°F. So it's likely that your basement or a closet is still too warm for long-term storage.
Ditch The Rack. Get The Fridge.
There are many restraints to size and budget when it comes to selecting a wine fridge.
But, most people buy a wine fridge that's too small. A 6-12 bottles fridge won't give you the benefit to longer term storage. You'll be drinking and replacing too fast.
I'd suggest something in the 24-48 bottle range that can accommodate different sized bottles, including some oversized storage for magnums, Champagne and Rieslings.
Build A Long-Term Wine Plan and Budget
Buying your first full case of wine is a special moment.
This is the pro move. You know that you'll drink that wine over a couple months. You move from wine drinker to wine collector.
Now, you'll start thinking about what wines you'd like to try over the next 3-5 years.
These wines don't even have to be expensive. Côte-du-Rhône, my favorite wine region, fits this drinking window nicely.
But wine age-ability is a whole topic for another day.
Take Your Storage Off Site
I used to work in wine storage, and it's the best bargain in wine collecting.
For a relatively small fee, you pay for someone else to tend to your wine.
These are typically lockers in a temperature controlled facility. The best ones offer you a sense of community. Some will even accept shipments on your behalf. Hooray! No more waiting for the FedEx guy.
I still store my wine off-site because I have a lot of it.
Which reminds me, I should probably have a glass soon.
4 Steps Towards Becoming A Wine Storage Pro
If you're ready to level up your wine storage, follow the progression of the steps below.
Learn and Follow The Basics
Get A Dedicated Wine Fridge
Build a Wine Plan and Budget Focused on the Years Ahead
Take Advantage of Off-site Wine Storage
---
This Week's Free-Run Juice
Free-run juice is a wine term for the grape juice that comes from their own weight prior to pressing. These are weekly tidbits that came out from my own wine reading.
Worth The Squeeze – A Wine Fridge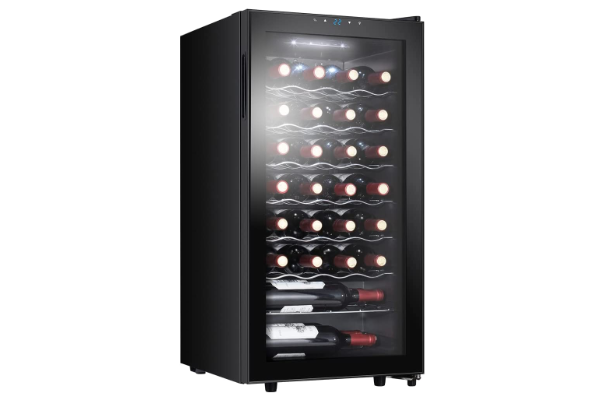 Sadly, the wine fridge I've owned for the past 6 years in unavailable for purchase on Amazon. But, I've found a suitable replacement.
Here are the three things, I look for in a wine fridge:
Single Zone – Less parts. Less maintenance. Less chance of breaking.
Temperature On Front Display – Easy to see if something is wrong.
Removable shelves Flexible storage means you can fit different sized bottles.
The Color of Rosé Amplifies Wine Gatekeeping
The wine community is a fickle beast.
This week an old article from Real Simple resurfaced on Instagram with some poor advice on picking a rosé. At first, I enjoyed the comments section.
But I realized there is so much was wrong with the wine community's response. It was snarky and without an alternative approach. The best response was from @thevintnerproject in their recent post.
Remember, drink what YOU LIKE. Most tips on picking wines skip the nuance and will fail to help your wine journey.
Ready to commit to wine learning?
Increase your wine confidence one weekly newsletter at a time.
New issue comes out every Friday
Unsubscribe at any time.