Good Morning and Happy Friday!
People often ask me:
What's the best wine education course out there?
The short answer is: it's complicated.
There's lots of choices, and there's certainly not a one-size-fits-all course for wine learning. If you've been on this newsletter for a while, you know that I'm a big believer in following your own path.
But let's face it.
Most of us are pretty crappy at following our own path.
Trust me, I know.
I had always wanted to learn about wine, but it wasn't until I started working in wine that I got the kick in the pants I needed.
Ultimately, I went the WSET route. And I'd highly recommend that for anyone looking to get into the wine industry.
But what about the rest of us?
​
4 Wine Course Options
Today, I wanted to present 4 different wine course options, and hopefully you'll find one that might suit you, your interests, and your needs.
You'll find links, brief descriptions and quick plus/minus for each course.
Windows on the World: A Complete Wine Course by Kevin Zraly
Exploring Wine's Connection to Place and Culture: Stories in a Bottle by Karen MacNeil
James Suckling Teaches Wine Appreciation
Jancis Robison: An Understanding of Wine
Before we dive in, here's the content breakdown of each course (click the image below to expand the PDF).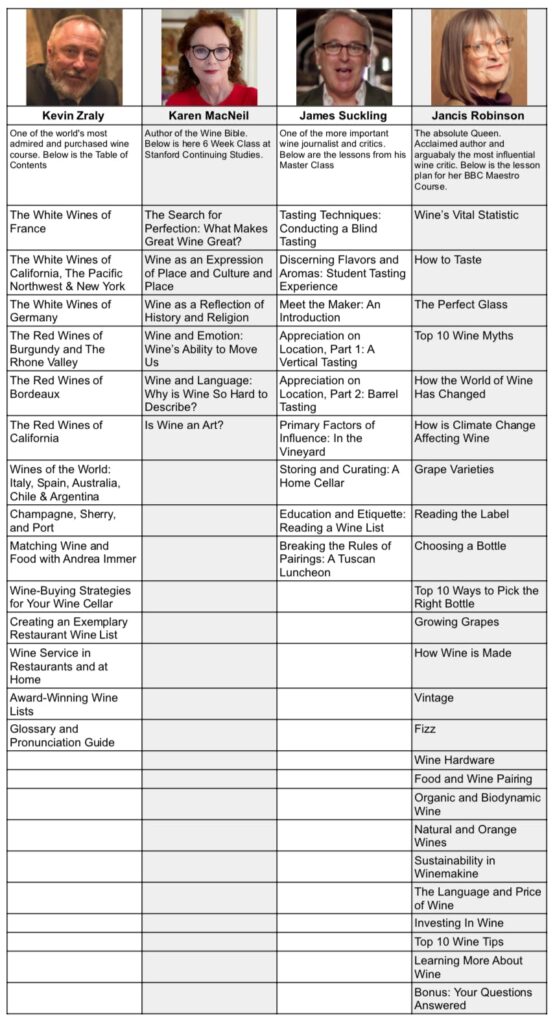 Zraly wrote the template for a great wine course into book format. And it's far from hypothetical. These are the same principles he honed over years of teaching the course of the eponymous restaurant at the top of the World Trade Center.
If you want a self-guided, self-paced experience in a book format, then this is the best option.
Plus: The preeminent textbook for wine learning. Required reading for most major wine credentials. Sourced from actual classroom lessons.
Minus: It's a book, so you're not going to have interaction with other students or even the teacher.
​
---
Here's a fun one from another accomplished author. Karen MacNeil wrote The Wine Bible—a cornerstone piece of wine learning literature.
However, MacNeil mixes it up with 6 live (or recorded) classes with the support structure of Stanford's Continuing Studies program.
Registration opens next week: February 22, 8:30am PT.
Plus: The closest thing you'll get to an in-person wine program (these days). An accomplished author with a romantic take on wine.
Minus: After a day of Zoom, do you really want to jump on to Zoom at night for a wine class?
​
---
If you're into wine and on social media, you've probably been served this ad a few too many times.
But inside, you'll get one of the world's most influential critics taking you through his interpretation of wine.
Plus: A Masterclass subscription includes 150+ other classes, including plenty on food (a must for wine lovers). And you'll get the glossy editing and polish of the platform with that too.
Minus: It's only 2 hours of content, so you might not get to the depths of wine learning compared to the others. Oh, and James Suckling isn't everyone's cup of tea.
​
---
Jancis is the goat. There's no other way to say it. She's an accomplished author of some of the most important wine books and creator of one of the most important wine websites: jancisrobinson.com​
She's first-ballot wine hall of fame material.
More importantly, Jancis was the first person from outside the wine world to earn the Master of Wine title (one of us, one of us).
Plus: It's Jancis Freakin' Robinson. 4+ decades of wine publication.
Minus: It's 25 lessons, 6 hours and self-paced online for $90. And you have lifetime access. Great, right? While I have no doubt the content is solid, most people won't feel the pressure to finish.
​
What's your appetite for a wine class? Which one sounds like the most exciting for you?
Ready to commit to wine learning?
Increase your wine confidence one weekly newsletter at a time.
New issue comes out every Friday
Unsubscribe at any time.