Happy Weekend,
In my latest round of research, I've been looking at lots of wine reviews, wine marketing emails, and wine bottle porn on social media (don't worry Mom, it's not what you think).
Sadly, wine speak is at an all-time high.
Everyone in wine is guilty of being hyperbolic and using insider talk. Worst yet is that regular folk are trying to talk like wine industry people.
Don't talk like a wine person. Talk like YOU.
There's magic when you start to believe in yourself and your personal connections to wine.
What do you taste, feel, and hear in wine?

Take Cal Fussman.
Cal realized that music was his connection to wine. His comprehension and understanding of wine changed when he started to listen to the wines.
He heard notes in his wine notes.
That's the secret: you need to talk about wines how you talk.
My own wine notes
I'm guilty of adopting too much of someone else's wine system. I learned the required tasting grids for the exams, but my early wine notes are some of my best notes.
Here's one from 9/18/2016—early in my wine journey: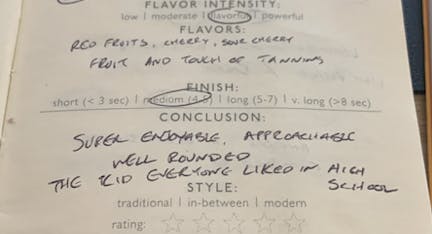 "Super enjoyable, approachable, well-rounded. The kid everyone liked in high school."
That note tells me everything I need to know about the wine, and it might do the same for you.
Personification works for me.
What about your wine notes?
It could be music, people or even emojis.
Your wine descriptions are yours. If they resonate with other people, wonderful.
But you need to talk about wine on your own terms.
In the beginning, we all imitate. It's how we learn, but remember to find your own voice as you continue on your wine journey.
​
---
This Week's Free-Run Juice
Free-run juice is a wine term for the grape juice that comes from their own weight prior to pressing. These are weekly tidbits that came out from my own wine exploring.
Worth The Squeeze – How To Drink Like A Billionaire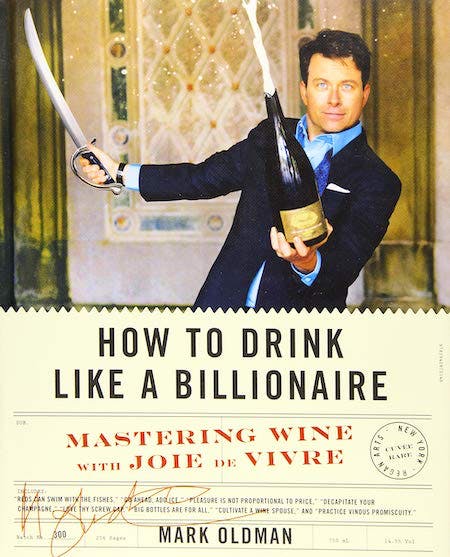 A few weeks back, I stumbled across a YouTube video with Mark Oldman and shared it with you.
I loved his approach to wine, so I figured I'd read his book.
Lo and behold, I found Mark's book packed with many of the lessons I preach. We must be kindred spirits, and I highly recommend his book.
It's currently out of print, but grab yourself a used copy. It contains great insights—especially on buying wine at retail and a restaurant—paired with Mark's relaxed approach to wine.
You'll get a chuckle or too, and you'll learn plenty.
Mitch Hedberg on wine
If you're in need of finding your own voice, look no further for inspiration than the late Mitch Hedberg.
Here's two great wine jokes.
​
---
P.S. – Thanks to Sam, Tom, and KimSia for their conversations this week and helping shape this edition of the newsletter.
P.P.S – If you noticed the change to the obligatory opening, it's because this newsletter is spanning the globe.
Thanks to everyone, wherever you are and whenever you read it! Enjoy your weekend wine.
Ready to commit to wine learning?
Increase your wine confidence one weekly newsletter at a time.
New issue comes out every Friday
Unsubscribe at any time.