Happy Friday,
My goal is help you discover what you love about wine and explore that aspect to the fullest.
So, I was thrilled when Kjell reached out to me on Twitter and said:
I love Tempranillo wines, but of course, not all of them are great.

– Kjell
Kjell's comment sparked an idea:
How can I help beginner's wrap their heads around the difficulties of finding and exploring Tempranillo wines?
There are two main challenges of Tempranillo.
But in understanding them, you will see that Tempranillo is the perfect grape for wine learning.
Let's dive in.
Challenge 1: Tempranillo Is A Grape With Many Names From Many Places
Tempranillo is grown throughout Spain and Portugal. Thanks to regional language differences, it goes by dozens of different names throughout the Iberian Peninsula. This increases the difficulty of finding a good one.
While you don't need to memorize every variation, here are few key ones to note and their regions you should explore:
Tinto Fino – Ribera Del Duero
Tinta del País – throughout Spain, Ribera del Duero and Rioja
Tinta de Toro – Toro
Tinta Roriz – Northern Portugal
Challenge 2: Tempranillo Is A Wine Of Many Styles
There are two major categories of styles for Tempranillo: young and aged.
Young Tempranillo are lighter wines that are more fruity with a bit of spice. They lack complexity and are typically made in Central Spain. These are your daily drinkers and great bases for Sangria, typically less than $10.
Aged Tempranillo is a huge spectrum of wines.
These wines can vary drastically in price. Aged Tempranillo can start around $20-35, but it also makes some of Spain's most expensive wines.
For example, Vega Sicilia goes for hundreds of dollars and has been called "better than sex."

Vega Sicilia—Tempranillo from Ribera Del Duero—is still on my bucket list…for obvious reasons.
On Tempranillo bottles, you'll see terms which indicate additional aging. Cosecha, Crianza, Reserva and Gran Reserva indicate aging from 0-5 years respectively.
However, some producers label their expensive wines Cosecha, meaning no aging requirements. This prevents them from being tied to a specific standard.
Because they spend more time in barrel and bottle, Aged Tempranillo have more complexity and a higher price.
Tempranillo Wines To Try
I'm hesitant to make sweeping suggestions, but then again, you're here for my wine advice.
Of the four producers named below, I've tasted different bottlings (Cosecha-Gran Reserva) over many vintages. And there was never a wine that I didn't like.
La Rioja Alta
Cune
Matsu
Señorio de P.Peciña
Tempranillo Wines To Avoid
My advice here is simple: Avoid the cheap price and the eye-catching label. It's likely someone has spent far too much time marketing to lure you in at this price range.
But, you shouldn't be afraid to experiment at the $10-12 price range, because these wines can deliver tremendous value and pleasure.
Tempranillo In A Nutshell
Here are the essentials of Tempranillo.
It has many names and grows in a variety of places.
It has a range of styles from fruity, youthful to "better than sex".
The wines scale in price from $10 to $400+.
As such, Tempranillo is a the perfect wine to grow with as your wine journey evolves.
You can start with the inexpensive daily drinkers. From there, you can explore the differences of aged Tempranillo in the different regions of Spain.
This Week's Free-Run Juice
Free-run juice is a wine term for the grape juice that comes from their own weight prior to pressing. These are weekly tidbits that came out from my own wine reading.
Worth The Squeeze – R. Lopez Heredia Vina Tondonia Reserva Rioja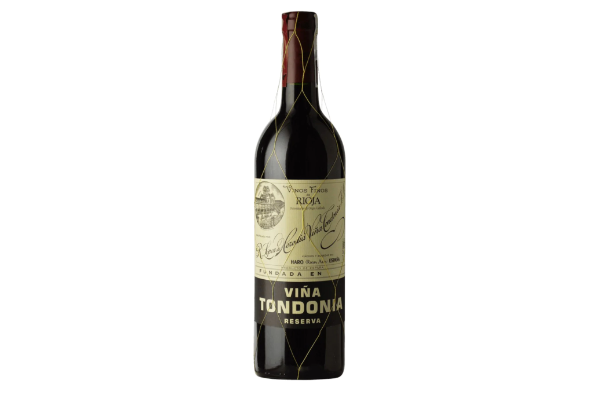 This is one of the wines you'll see on many "must-try" lists. And at $50 a bottle, it's certainly a special occasion wine.
But is it for you? And is it worth it?
This is old-school, classic Rioja. Some people love it, and some don't. I've written about old wine before, and this has old wine vibes.
There is an earthiness (think mushrooms, forest floor, or dried herbs) that will either turn you on or be a non-starter.
The first time I had this wine, I was overwhelmed by the complexity in the most positive way.
I realized I like old wine, and it was one of those early stepping stones to my becoming a wine collector.
So, if you're into old wine, check it out. If you want more fruit and less forest floor, you should avoid it.
Chilean Wine Is Out of Season
I love Always Sunny, and I remembered this scene for Mac and Charlie staring. But, I forgot how great Dennis's wine commentary is.
A Sangria Worth Your Time To Make
With summer coming to an end, there's no better time to make a batch of Sangria.
Here's a link to my favorite knock-you-on-your-ass Sangria recipe from José Andres.
It includes Brandy, Cointreau, Vodka and Port. So, you'll probably need to add a few more bottles to the liquor cabinet. But thanks to the flavor and intensity, it is worth it.
Ready to commit to wine learning?
Increase your wine confidence one weekly newsletter at a time.
New issue comes out every Friday
Unsubscribe at any time.